Air Conflicts: Secret Wars
További platform megjelenések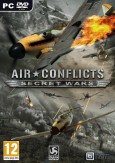 Arcade légi harcos akciójáték, amelyben egy hosszú kampányon át a második világháború "piszkos csatáiban" vehetünk részt, miközben egy-egy visszaemlékezésben az első világháború légi harcaiba is belekóstolhatunk. Mivel szó sincs szimulátorról, a komoly, fizikára épülő légi csatákat elfelejthetjük, noha a gyors, pergős élményt kedvelőknek minden...
tovább
Shadows: Awakening
További platform megjelenések
Képzeld el, hogy békésen éled démoni életedet, amikor egy rejtélyes öregember megidéz, és közli: a sorsotok össze van kötve, szóval jobb, ha azt teszed, amit ő mond. A Shadows: Heretic Kingdom-sorozat legújabb fejezete ezzel a felállással indít. A főhős a Devourer nevű démon, aki nem éppen önszántából szövetségre lép a csuklya mögé bújt, mágikus...
tovább
Vikings: Wolves of Midgard
További platform megjelenések

A Vikings: Wolves of Midgard a Diablo-játékmenetét házasítja az északi keménylegényekkel és isteneikkel. A Games Farm alapvetően jól rakta össze alkotását, már ami a hack and slash zsáner alapjait illeti. A programnak vannak egyedi vonásai, még a harc sem mondható átlagosnak, ugyanakkor valami mégis hiányzik. Bár a skandináv mitológia, a...
tovább