Heroes of Might & Magic III

A Heroes of Might and Magic sorozat híres arról, hogy kiválóan ötvözi az RPG-elemeket a körökre osztott stratégiával. Ennek sokak szerint egyik legjobb darabja a Heroes III volt, még az előző évezredben.
tovább
Heroes of Might and Magic 4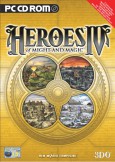 Remek stratégia, változatosság, hamisítatlan heroes-hangulat, jó multis rész... kell ennél több? Igaz, a rajongók húzták miatta a szájukat, mert túlságosan elütött a játék az elődöktől. Így aztán sokan ezt a részt amolyan "zabigyereknek" tartják, kicsit úgy, mint a Settlers-szerelmesek a Heritage of Kings epizódot. De aki belemerül, mégiscsak...
tovább
Might and Magic VI: The Mandate of Heaven
Öt évvel az előző rész után folytatódtak a New World Computing által megálmodott világban a kalandok. A vállalkozó szelleműek Enroth földjét barangolhatták be ebben a klasszikus, belső nézetes, 4 fős partira alapú szerepjátékban.
tovább