Death to Spies
span name="maskwindow" id="maskwindow"> Smersh az orosz szó a "Death to Spies" (halál a kémekre) kifejezésre, és ez volt a neve a kém elhárító hálózatnak amit a szovjet hadsereg hozott létre a második világháború alatt. A játék főszereplője a szovjet hírszerző ügynökség 4. részlegének egyik századosa. Ő egy profi kém, akit veszélyes küldetések...
tovább
Death to Spies 3
További platform megjelenések
A Death to Spies folytatásában ezúttal is az orosz kémelhárítás tagjaként tevékenykedünk, az időpont azonban az 1947 és '91 közötti szakasz, vagyis a hidegháború a főszereplőink pedig három ügynök (Strogov, Viktor és Olga) akikkel Amerikában, Kubában és Európában kell végrehajtanunk különböző küldetéseket.
tovább
Death to Spies: Moment of Truth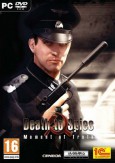 A Death To Spies folytatásában ismét belebújhatunk Szemjon Sztrogov, a SMERSH szovjet kémelhárító-szervezet ügynökének bőrébe, hogy a legveszedelmesebb megbízásokat hajtsuk végre az ellenséges vonalak mögött. És bár a grafika nem a legütősebb, az izgalom és a küldetések változatossága bőven kárpótol minket mindezért.
tovább