Kiadó:
Application Systems Heidelberg
Growbot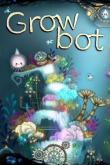 A Growbot egy 2D-s point & click kalandjáték, amely egy gyönyörű biopunk űrállomáson játszódik. Nara szerepében játszol, aki egy kapitánynak készülő growbot. Amikor az állomás otthonát gyorsan növekvő kristályok támadják meg, rajtad múlik, hogy megmentsd. A játékot olyan klasszikus kalandjátékok ihlették, mint a Loom, és olyan modern...
tovább
Mutropolis

A Mutropolis egy hagyományos point & click kalandjáték, melyben egy legendás várost kell felkutatnunk régészek kicsiny csoportját vezetve.
tovább
The Longing
A The Longing egy nem mindennapi kalandjáték, melyben a játékosnak nincs más dolga, minthogy várja az alvó földalatti király ébredését, amely a játék kezdetétől számítva 400 nap múlva következik be. A Studio Seufz programjának különlegessége, hogy az idő az alatt is telik, amíg a játékos nem lép a programba, így akkor is meg lehet tudni a végét,...
tovább