Amnesia: A Machine for Pigs
További platform megjelenések

A Machine for Pigs nem közvetlen folytatása a The Dark Descentnek, s nem is követi az ott felvázolt történetet, illetve visszatérő karakterekkel sem találkozhatunk. A játék egy teljesen új, de továbbra is hátborzongató történettel jelentkezik, mely 1899-ben, egy tehetős iparos, Oswald Mandus körül forog. Mandus kalandja ott kezdődik, hogy...
tovább
Amnesia: The Dark Descent
További platform megjelenések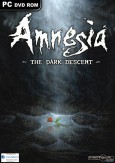 A Penumbra sorozatot alkotó Frictional Games új horror-kalandjátéka korábbi szériájuk szellemi folytatásának tudható be. A játékosok itt is egy lovecrafti rémálom kellős közepén térnek magukhoz egy kastélyban, az ellenfelekkel pedig nem lehet harcolni, csupán elbújni előlük. A hangulat nagyon jó, a játékélmény pedig kiváló, hála a Penumbraból...
tovább