Amnesia: A Machine for Pigs
További platform megjelenések

A Machine for Pigs nem közvetlen folytatása a The Dark Descentnek, s nem is követi az ott felvázolt történetet, illetve visszatérő karakterekkel sem találkozhatunk. A játék egy teljesen új, de továbbra is hátborzongató történettel jelentkezik, mely 1899-ben, egy tehetős iparos, Oswald Mandus körül forog. Mandus kalandja ott kezdődik, hogy...
tovább
Dear Esther
További platform megjelenések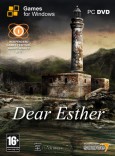 A Dear Esther egy kísérleti játék, melyben egy skót szigetet sétálunk körül, miközben egy Esther nevű nőhöz írt, irodalmi stílusú leveleket olvas fel egy nyugodt hangú narrátor. Harc, halál, feladványok nincsenek, csak a nyugodt, csodás séta, remek hangulattal és kísérteties befejezéssel. A program hossza körülbelül egy óra, de ahhoz, hogy...
tovább
Everybody's Gone to the Rapture
További platform megjelenések

Az Everybody's Gone to the Rapture névre keresztelt alkotás egy kis városban, Shropshire-ben játszódik egy órával a világ vége előtt. A játékosoknak az a feladata, hogy a hátralévő 60 percben minél jobban ismerkedjenek meg a körülöttük lévő világgal, és annak hat, még ott lévő lakosával. A tervezők szeretnék bemutatni, hogy egy városkában hogyan...
tovább