Fejlesztő:
Blackbird Interactive
---
A Blackbirdöt a Relic volt munkatársai alapították, akik anno a legendás űrstratégia-sorozat Homeworldön dolgoztak éveken át.
Homeworld 3
A Homeworld 3 ott veszi fel a fonalat, ahol az elődök abbahagyták: a Kushan nép győzedelmeskedett romlásukra törő ellenségei fölött, és megnyitotta útját a csillagokba. Ránk pedig újabb grandiózus űrcsaták, és keleties dallamok várnak.
tovább
Homeworld: Deserts of Kharak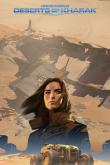 A Homeworld: Deserts of Kharak a klasszikus Homeworld-sorozat előzménye, egy közösségi rendszeren alapuló, valósidejű stratégiai játék, mely annak ellenére, hogy hangulatában és működésében a klasszikus szériát idézi, egy kolonizált bolygón játszódik. A programban hatalmas seregeket kommandírozhatunk, gigantikus térképeken játszva.
tovább