Earth Defense Force 4.1: The Shadow of New Despair

A lassan 10 esztendeje futó EDF-széria külső nézetes akciójátékként az idegen lényeket és a változatos lőfegyvereket állítja a középpontba. A Shadow of New Despair alcímű epizód azonban nem folytatás, hanem a PS3-ra és Xbox 360-ra megjelent Earth Defense Force 2025 javított változata. Nincs komoly sztori, nincs mély karakterbemutatás, csak az...
tovább
Earth Defense Force 5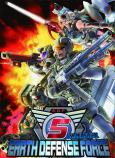 A Csillagközi Invázió óta tudjuk, milyen az, amikor katonaként végtelen számú űrbogárral kell szembeszállni. Az Earth Defense Force sorozat is ezt az élményt kínálja, azonban az EDF5 egy az egyben a negyedik rész, vagyis inkább mindegyik korábbi sorszámozott rész, miközben eredetileg 2017 decemberében jelent meg a tengerentúlon. Csapatban...
tovább