Fejlesztő:
Blind Squirrel Games
---
A Blind Squirrel Games adatlapja a PC Guru Online oldalán.
BioShock: The Collection
További platform megjelenések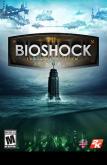 A BioShock: The Collection egyaránt tartalmazza az eredeti BioShockot, a BioShock 2-t és a BioShock: Infinite-ot. Az első két játék feljavított grafikával került a csomagba, és az összes kiadott DLC is megtalálható benne. Az egyetlen hiányossága a The Collectionnak a BioShock 2 multiplayere, annak szerverei ugyanis már nem élnek.
tovább
Sonic Colours Ultimate
További platform megjelenések

A Sonic Colours Ultimate a 2010-ben megjelent Sonic Colours felújított változata, melyet a híres kék sündisznó 30. születésnapjára hoztak tető alá. Mint ilyen, nem hiányozhat belőle semmi, ami egy jó Sonic játékhoz kell: eszeveszett sebesség, gyermeteg humor és emlékezetes főellenségek.
tovább