Alekhine's Gun
További platform megjelenések

A kései kétezres évek Death to Spies-játékaihoz megálmodott, trilógiazáró folytatás rengeteg tortúrán ment keresztül, míg végül felkerült a Steam digitális polcára. A sztori egy röpke náciirtást leszámítva a hidegháború derekán, a hatvanas években játszódik, fő vonalát tekintve pedig a számtalan összeesküvés-elmélettel övezett Kennedy-gyilkosság...
tovább
Troll and I
További platform megjelenések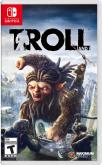 A Troll and I skandináviába, az 1950-es évek elejére kalauzol minket, ahol egy legendás szörny, Troll után folyik a hajsza. Valami azonban balul sül el, és a trollvadászok a világra szabadítják az orkok seregét, itt kezdődik egy valószínűtlen barátság a csavargó fiú, Otto és Troll között. A játékban mindkét főszereplő irányítását átvehetjük,...
tovább