Digimon Story Cyber Sleuth: Complete Edition
További platform megjelenések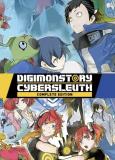 A Digimon Story Cyber Sleuth: Complete Edition az elmúlt évek legjobb Digimon játékait összegyúrva jelent hiánypótló élményt immár PC-n és Nintendo Switch-en is.
tovább
NEO: The World Ends with You
További platform megjelenések

A Square Enix és a h.a.n.d. gondozásában megjelent akció-RPG a 2007-es előzményhez és az anime feldolgozáshoz hasonlóan Shibuya városába, Tokióba helyezi a cselekményt, ám sokkal modernebb köntösben.
tovább