Blitzkrieg 3

A Blitzkrieg 3-ban a második világháborúba lehet visszatérni, az eddig megszokott módon. A játékos választhatja a tengelyhatalmakat, a szovjeteket, a szövetségeseket, hogy a háború hat éve alatt folyamatos harccal elérje a győzelmet. A program rendelkezik szóló és multi résszel is: az online stratégia részért nem kell havidíjat fizetni, és nem...
tovább
Heroes of Might and Magic V: Tribes of the East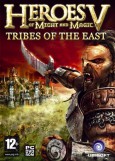 A Heroes ötödik részének legújabb küldetéslemezében debütál az ork faj, bemutatkozik egy új kampány, elmerülhetünk az extra épületekben és varázslatokban, miközben nem lesz szükségünk se az alapjátékra, se az előző expanzióra.
tovább