Drakensang: The Dark Eye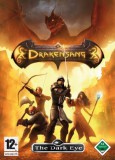 A német nyelvterületen népszerű papír-ceruza szerepjáték számítógépes feldolgozása, melyet annak készítői adaptáltak a monitorokra. A bő 80 órát kitevő sztori során négy fős csapattal kalandozhatunk Aventuria birodalmában, látványos külsőségek között, izgalmas csatákkal, érdekes fejlődési rendszerrel.
tovább
Drakensang: The River Of Time
A németek elkaptak valamit... Mind a kaland- mind a szerepjátékokban komolyan odatették magukat, hiszen inkább hentelj és gyakj Sacred mellett ott "a" szerepjáték, a Gothic is, amely német műhelyből indult világhódító útjára, és melléjük odasorolhatjuk immár a Drakensangot is, amely hibái ellenére is ajánlott vétel a műfaj rajongóinak.
tovább