Dreadnought
További platform megjelenések

A Dreadnought című játék egy űrszimulátor, melyben egy zsoldos hajókapitányt alakítva egy gigászi csatahajó kormánykereke mögül kell minél jobban meggazdagodnunk a káosz uralta galaxis végtelen csatterein. Játékosokként az a feladatunk, hogy a hajónk egyes részeit menedzseljük, s így vezessük győzelemre a parancsainkat folyamatosan leső...
tovább
Spec Ops: The Line
További platform megjelenések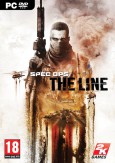 A 1998-ben PC-n elstartoló és azóta a PlayStation 1-et és Dreamcastot is megjárt Spec Ops-sorozat, mint azt a neve is mutatja, az amerikai hadsereg különleges egységeinek kalandos bevetéseit mutatja be jócskán kiszínezve. Az eddig nyolc részt megélt taktikai FPS-széria jó értékelésekkel büszkélkedhet, ám a 2002-es Airborne Commandoval láthatóan...
tovább