Q.U.B.E.

A rejtelmes, absztrakt és steril környezetben játszódó Q.U.B.E. (Quick Understanding of Block Extrusion) belső nézetű fejtörőjáték, melyben a játékosnak az őt körülvevő színes kockák manipulálásával kell átjutnia a pályákon.
tovább
Q.U.B.E. 2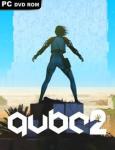 Hosszú évek után visszatért a Q.U.B.E. egy második résszel: a Toxic Games alkotta játékban ezúttal egy nőnek kell megtalálnia a hazavezető utat, miután felébredt egy idegen környezetben. A Q.U.B.E. 2 megtartotta az előző felvonás minden elemét, de a fejlesztők újakat is alkottak, 11 egyedileg megalkotott területen kell több, mint 80 rejtvényt...
tovább
Q.U.B.E: Director's Cut
További platform megjelenések

A Q.U.B.E. című játék definitív kiadása, amely nemcsak egy csomó hibajavítást és Oculus Rift támogatást hozott, hanem egy csomó új pályát is, olyan kihívásokat, mint az Against the Qlock, teljesen friss zenei anyagot, sőt egy új narratívát is; ennek szerzője Rob Yescome, a Crysis 2 és az Alien Isolation írója, a sztori életre keltéséről pedig...
tovább