Kiadó:
Obsidian Entertainment
---
Az Obsidian Entertainment egy nagy múlttal rendelkező, profi fejlesztőcsapat.
Pillars of Eternity 2: Deadfire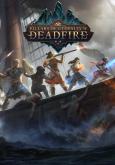 A Pillars of Eternity 2: Deadfire-ben egy új kontinensen kell kalandozni. A történet az első részhez kapcsolódik, régi szereplők visszatérnek, új szereplők is megjelennek. A fény és újjászületés istene feltámadt, így a főszereplőnek le kell vadásznia Eothast, hogy meglelje a válaszokat, amik nemcsak az emberek, de az istenek sorsára is hatással...
tovább