Crypt of the Necrodancer
A Rougelike műfajban már elég nehéz újat mutatni, de azért a Brace Yourself Games megpróbálkozott vele. Hiszen hány olyan roguelike játék van, melyben nem (csak) harcolni kell, hanem… táncolni? Oké, a "tánc" kifejezés talán picit erős, mondjuk inkább úgy, hogy ritmusra kell benne mozogni. Minden egyes pálya más és más zenét kapott, ezek üteme...
tovább
Industries of Titan
Építs egy hatalmas ipari várost, fejlődj és terjeszkedj a nyersanyagért, területért és hatalomért. Számos lehetőséged van arra, hogy birodalmad kiépítsd, miközben megvívod a magad háborúját ellenségeiddel szemben. Az Industries of Titan 2020. április 14-én jelent meg korai hozzáférésben az Epic Store-ban, 2021-ben pedig, a "publikus bétatesztet"...
tovább
Phantom Brigade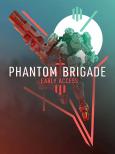 A Phantom Brigade egy körökre osztott stratégia, melyben az ellenség által megszállt hazánkat szabadíthatjuk fel óriásrobotokkal.
tovább