Ancestors: The Humankind Odyssey
További platform megjelenések

Epizodikus akció-túlélőjáték, ami végigvezet minket az emberiség legnagyobb pillanatain, a döntés pedig a mi kezünkben lesz, hogy az evolúció vagy a kipusztulás ösvényére lépjünk.
tovább
The Outer Worlds
További platform megjelenések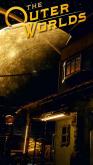 A The Outer Worlds az Obsidian Entertainment legújabb szerepjátéka, mely hangulatában a Fallout-sorozatot idézi. Nyilván Nem véletlenül, hiszen a srácok alkották az ős-Falloutokat és a közönségkedvenc Fallout: New Vegast is. Ezúttal azonban nem Amerika atomcsapás sújtotta sivatagaiba, hanem a Galaxis peremére látogatunk, ahol megavállalatok...
tovább