Master Reboot
További platform megjelenések

Képzelj el egy világot, ahol a halál többé nem végleges, ahol a felbecsülhetetlen értékű emlékeket elmentjük, hogy te örökké élvezhesd őket, ahol a lelked halhatatlan. Üdvözlünk a Soul Cloudban! Töltsd fel a lelked a szervereinkre, és légy nyugodt abban a tudatban, hogy a lényed egy darabja a végtelenségig fog élni.
tovább
The Complex
További platform megjelenések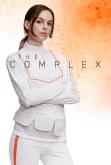 A Wales Interactive egy újabb FMV (Full Motion Video) játékkal jelentkezett, mely a Late Shifthez hasonlóan Londonban játszódik. A brit város biofegyver támadást szenved, két tudós pedig egy lezárt laboratóriumban találja magát, melyben két ellenfelük van: a fogyatkozó levegő és az idő. A The Complex gazdag, izgalmas történetet kínál, többszörös...
tovább