Days Gone
További platform megjelenések

A Days Gone a zombi-zsáner követője, amiben az élőholtak elszaporodása után a kevés túlélő tovább küzd az életéért a vadonban egy szabadon bejárható világban. Mi Deacon St. Johnt alakítjuk, aki fejvadászként próbál boldogulni két évvel az apokalipszis után.
tovább
Days Gone (PC)
További platform megjelenések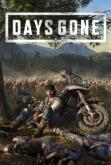 A 2019-ben PS4-re megjelent Days Gone 2021-ben érkezett meg PC-re. A The Walking Dead és a Son of Anarchy szerelemgyermekeként is felfogható program két évvel egy járvány kitörése után játszódik, amely során az emberiség nagyrésze agresszív, emberevő mutánsokká alakult. A kevés túlélő a vadont járva vagy táborokba rendeződve próbálja meg...
tovább
Uncharted: Golden Abyss

Az Uncharted név az elmúlt évek során eggyé vált a minőségi játékszoftver fogalmával, és a PS Vita egyik nyitócímeként debütáló Golden Abyss sem hoz szégyent a rendszeresen év játékai címeket begyűjtő elődeire.
tovább