Fejlesztő:
Most Wanted Entertainment
Defenders of Ardania
További platform megjelenések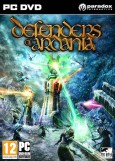 Vannak a játékiparban nagy meglepetések, azonban a Defenders of Ardania nem tartozik közéjük. A játék ugyanis nem más, mint a jól ismert tower defense stílus közepesen melós újragondolása: van egy pálya, azon szabott útvonalakon támadó, vagy inkább közlekedő egységek, és a mi feladatunk az, hogy a stratégiai pontokon elhelyezett, folyamatosan...
tovább
Nexus 2: The Gods Awaken
A Nexus 2 az első rész 25 évvel későbbre datált folytatása, melyben az emberiség újabb intergalaktikus fenyegetéssel néz farkasszemet. Az valósidejű űrstratégia új egységekkel és funkciókkal gazdagodott az első rész óta -- ilyen például a The Jupiter Incidentben sokszor kritizált fegyverkiosztás szabad állíthatósága. A grafikáért az 3-as...
tovább
Thunder Wolves
A Thunder Wolves egy árkád-akciójáték, melyben a legjobb helikopterekkel kell végrehajtani veszélyes misszókat. Annak, aki csak egy könnyed kikapcsolódásra vágyik, vagy arra, hogy szétlőjön néhány hátsót, elsőrangú szórakozást jelenthet, amennyiben elnézi kisebb-nagyobb hibáit: nem túl szép, és kihívás sincs igazán benne...
tovább