Fejlesztő:
Stage Clear Studios
---
A Stage Clear Studios fejlesztőjének adatlapja a PC Guru online oldalán.
Last Kids on Earth and the Staff of Doom
További platform megjelenések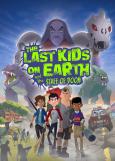 Az azonos című könyv alapján készült animációs sorozat játékadaptációjaként megjelent történetben a világvégét túlélő srácoknak egy újabb szörnyeteggel kell szembenézniük. Hiába, a világvége után már senkinek sem hiányzik még egy apokalipszis.
tovább