Kirby and the Forgotten Land

Feneketlen bendőjű rózsaszín hősünk újra visszatért, hogy szájával mentse meg a világot! Kirby első teljesen 3D-s kalandjában egy elhagyatott világba keveredünk, ahol a civilizáció kihalt romjait elfoglalta a természet. Hősünkkel feladatunk, hogy kiszabadítsuk az elrabolt Waddle Deeket, és legyőzzük a háttérben meghúzódó veszedelmes fenevadakat.
tovább
Kirby's Dream Buffet

Mindenki kedvenc haspókja ismét megéhezett, és ezúttal gördülve indul a legkülönbözőbb finomságok nyomába a HAL Laboratory ügyességi partijátékában.
tovább
Kirby's Return to Dream Land Deluxe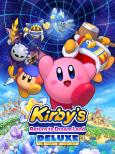 Mindenki kedvenc pufók hőse visszatért, hogy felújított és kibővített formában hozza el eredetileg Nintendo Wii-re megjelent kalandját.
tovább