Layton's Mystery Journey: Katrielle and the Millionaires' Conspiracy
További platform megjelenések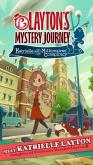 A Layton's Mystery Journey: Katrielle and the Millionaires' Conspiracy egy kalandjáték, melyben a híres Hershel Layton professzor lányaként, Katrielle "Kat" Laytonként kell egyik rejtélyt a másik után megoldanunk.
tovább
Snack World: The Dungeon Crawl Gold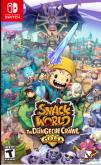 A Snack World: The Dungeon Crawl című RPG játék humoros formában adja elő a történetét: a főszereplő otthonát lerohanják, így el kell indulnia, hogy bosszúja beteljesedjen és megtalálja a nagy kincset. Véletlenszerűen generált kazamatákban lehet kalandozni, egyedül vagy maximum három baráttal. Rajzfilmes grafika, személyre szabhatóság, humor,...
tovább