Pirate's Revenge
Age of Pirates: Captain Blood, Age of Pirates: Caribbean Tales, Pirates of The Caribbean, Tortuga: Two Treasures, Pirates of the Burning Sea... Kalózos-kardozós címek, melyekkel stílusosan tengert lehetne lassan rekeszteni, sőt Karib-tengert, hiszen mindegyike a világ e bús szegletében zajlik mintha csak a II. világháborús címek mint a D-dayről...
tovább
Stranger
A Stranger kombinálja az epikus szerepjátékokat a valós idejű stratégiák legjobb részeivel. Soha nem látott varázslat és tárgybűbájoló rendszer borzolja a kedélyeket, olyan lehetőségeket adva a játékosok kezébe, amelyekkel ez idáig nem élhettek. Remek pálya-design gondoskodik az újrajátszási rátáról, de elsőre is legalább 30 óránkba fog telni,...
tovább
Sudden Strike 3: Arms for Victory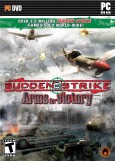 A Sudden Strike 3: Arms for Victory kiterjeszti a hagyományos RTS játékok határait. A fejlesztők azt ígérték, hogy más WWII RTS alkotásokból tanulmányozzák az interfészt és a játékmenetet, hogy változtassanak a sikersorozat harmadik felvonásán, s ezek megkülönböztessék a játékot a konkurenciától. Hatalmas területeken szimulál a program földi-,...
tovább