Kiadó:
Eutechnyx
---
Az Eutechnyx egy független autós játékokkal foglalkozó csapat.
NASCAR '14
További platform megjelenések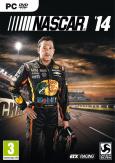 A NASCAR '14 az amerikai NASCAR autóverseny-sorozat hivatalos 2014-es játéka, amiben a népszerű versenyszéria csapatai, pilótái és pályái játsszák a főszerepet. A játékosok saját maguk is elindulhatnak NASCAR karrierjükön, hogy szép lassan a világ legjobb versenyzőivé váljanak a műfajban, de akár már létező csapatok sztárjai bőrébe is bújhatnak,...
tovább
Warhammer 40 000: Storm of Vengeance
A Warhammer 40K: Storm of Vengeance egy kanonizált történetet mesél el, mégpedig a Piscina IV névre keresztelt planétán történteket, ahol Belial Nagymester és Ghazghkull Thraka Hadúr feszült egymásnak. Az egyik oldalon játékosokként az lesz a feladatunk, hogy mindösszesen 100 Dark Angel Space Marine-t irányítva megvédjük a bolygót a vérszomjas...
tovább